The best day of my life.
I cant believe how good this day was, I mean I've been to concerts before but defiantly NONE like this. I mean I was centre meters away from touching someone who had touched Johnathon Ross, CAN YOU BELIVE THAT?
They day started off Dami, Will, Ryan and I got dropped off in Manchester, we decided to go and grab something to eat from McDonalds, they were still serving breakfast so we had that. I got a cup of coffee which was so awkward and spilt really easily. It was now about 11 and we had started queuing up for the concert, I admit I winged a bit to begin with, but I'm glad we stayed queuing now as we had the best position at the stadium, about 3 meters away from the stage, I mean can you believe that we were meters away from bon jovi, I mean common BON JOVI!
So after about an hour of queuing we were getting really bored and thirsty, we sent Ryan and Dami to go and pick up so goods for us, including crayons and a drawing pad. They returned and we started to draw random things, including:
My interpretation of Jon Bon Jovi

About half an hour before we went in, all these bastards who had just joined the queue had started to try to push to the front, they got kicked out and stuff tough, which was good. Because we were golden ticket holders we got these awesome translucent bands which gave us access to the golden circle, but I put mine on tight and it pissed me off the whole night, I didn't mind that much though.
Oh we did see Ryan's look a like.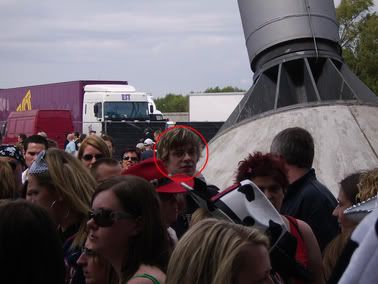 And here is us minus Ryan, rocking out by the portaloo:
Now heres some random pictures take while queuing up:
Ryan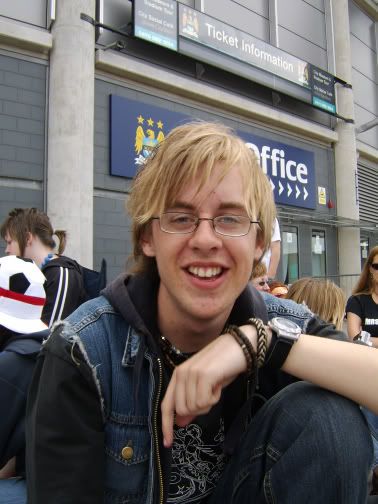 Will

Ok so we have now entered the stadium and found ourselves running down the stairs and down the field, passing Lego men like figures who were actually bar staff walking around the stadium hading out drinks. We soon entered the golden circle, only now I noticed how close we would actually be to the bands.
Ok so after a while of trying to get ourselves as far to the front as possible, the first band entered the stage. They were called "The geckos" and had won a competition to support Bon Jovi. They were quite good, they said there my space link but I can't find them, well here are a few photos of them.
Ok now Nickelback come to the stage, I really thought these guys were going to suck so much, but they have changed my views on them. I quite like them now, I mean they did fire t shirts through canons into the crowd, even though I dint get one. They were quite good, and we mistook about 3 songs for the Spiderman song.
Now, BON JOVI what can I say, really, they were sooooo good. I really can't describe how good it was. We got on the big screen too. They were amazing; you don't know what it feels like when 65000 people are all singing along to this song, admiring these guys who give you the true joy of music. Here is some pictures of them: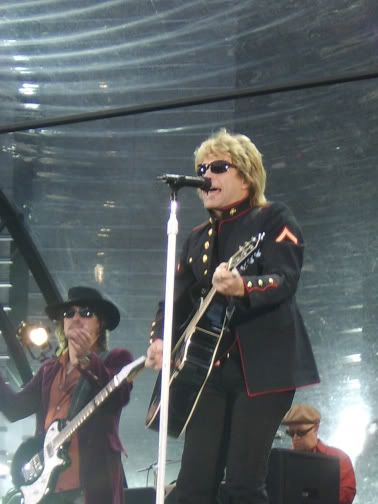 We were SOOO close!


Now here are some pictures of us inside the concert:

Me and dami doing the hand shake :P

Awesomeness

Alot of people, when we were leaving :P

All photos taken by ryan robinson, use without permission of these can rusult in a fine. :-)
all rights reserved (C)